ajira.tamisemi.go.tz 2022 |Mfumo wa maombi ya ajira Apply now
ajira.tamisemi.go.tz 2022, ajira tamisemi go tz |Mfumo wa maombi ya ajira TAMISEMI 2022, Ajira za walimu 2022. This article contain all necessary information about ajira.tamisemi.go.tz 2022, www.tamisemi.go.tz ajira 2022.
ajira.tamisemi.go.tz 2022
The Office of the President, Regional Administration and Local Government (OR – PMO-RALG) has approved the appointment of 7,612 Health Cadre Staff for Council Hospitals, Health Centers and Dispensaries as well as 9,800 Primary and Secondary School Teachers to do work under Local Government Authorities.
Thus, graduates from Government Higher Education Colleges, Teachers Colleges and Government Health Colleges are announced to submit job applications from April 20 – 04 May, 2022. Vacancies are available for Diploma, Diploma graduate graduates. (Diploma) and Degree.
ajira.tamisemi.go.tz 2022 | Mfumo wa maombi ya ajira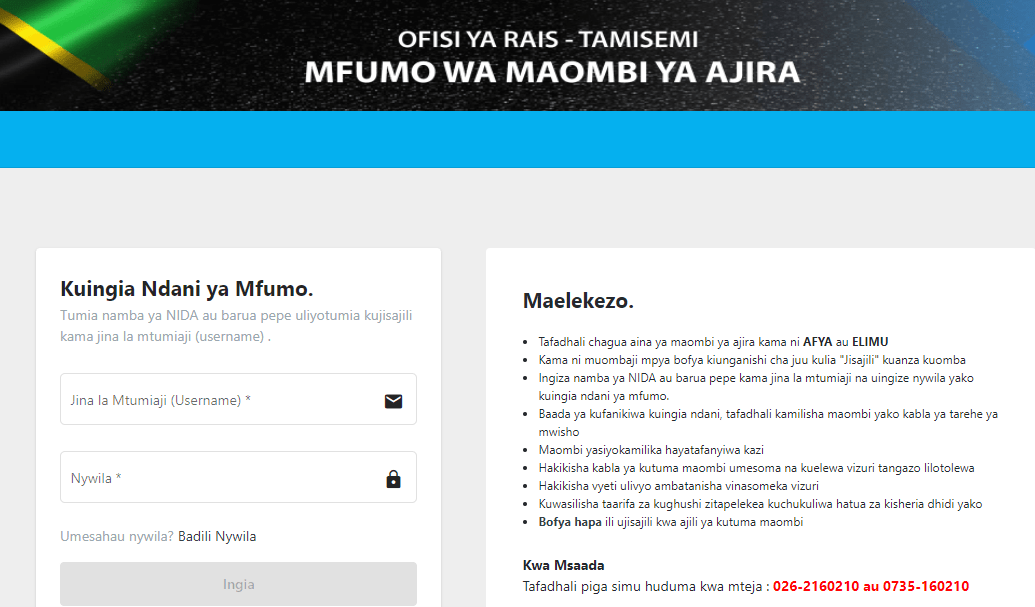 Instructions on How to use ajira tamisemi go tz
Please select the type of job application whether it is HEALTH or EDUCATION
If you are a new applicant click on the link at the top right "Register" to start applying
Enter the NIDA number or email as the username and enter your password to log into the system.
After successfully logging in, please complete your application before the deadline
Incomplete applications will not be processed
Make sure before you read the application that you have read and understood the advertisement
Make sure the certificates you attach are legible
Submitting forged information will lead to legal action against you
Click here to sign up for the application submission
Required Documents in Mfumo wa maombi ya ajira OTEAS 2022
Make sure you have the original Copy Copy of the following: –
Authentic Birth Certificate pdf 2MB
Real Certificate of Results and Graduate Training O-Level, A-Level and College-pdf 2MB with Transcript
National ID or NIDA Number-pdf 2MB
Make sure you have a Laptop, Tablet or Smartphone capable of 3G..H + or 4G
How to Log in ajira.tamisemi.go.tz 2022
Visit OTEAS Tamisemi official websitehttps://ajira.tamisemi.go.tz/
Click on  Register link from the home page to Create Account
Enter the Personal Information and click NEXT button on the registration page.
Enter all details on the " Tamisemi Form" correctly without any mistakes.
Upload all documents and Certificates required.
Fill in the mandatory details carefully in the fields given.
Click on the submit option.
Take a printout or Photo by his/her mobile phone of the submitted form for further reference
The establishment of the Ministry of Regional Administration and Local Government (TAMISEMI) is enshrined in the Constitution of the United Republic of Tanzania Article 8 (1) 145 and 146 of 1977 and many other amendments thereafter.
In 1982 under the Parliament of the United Republic of Tanzania passed the Local Government Authorities Act No. 7 (Cap 287) and the Urban Authorities Act No. 8 (Cap 288).
The two laws empowered the Minister responsible for Regional and Local Government Administration on the establishment of District, Village, Small Town, and Local Government Authorities.
Tanzania is an East African country known for its vast wilderness areas. They include the plains of Serengeti National Park, a safari mecca populated by the "big five" game (elephant, lion, leopard, buffalo, rhino), and Kilimanjaro National Park, home to Africa's highest mountain. Offshore lie the tropical islands of Zanzibar, with Arabic influences, and Mafia, with a marine park home to whale sharks and coral reefs
Education is a continuously developing sector that is contributing significantly to the Tanzanian economy, hence creating a need to develop, up to-date systems and products to match the fast growing technologies and curricula in the world. Tanzania is aiming to harness and improve the skills of its people for accelerated economic growth.
Tanzanian government is keen to develop the education sector and has placed the sector as one of its top priority sectors. This is evidenced by several initiatives by the government. First, Tanzania's Development Vision 2025 proposes "a well-educated and learning society" as one of five major attributes. Also, education is identified as a main area of focus in the government's National Strategy for Growth and Reduction of Poverty (NSGRP).