Ratiba ya sensa 2022 important events.  When will Nbs Announce names of selected applicants SENSA jobs 2022. NBS (https ajira nbs go tz application create). Population and housing census is a process of collecting, analyzing, evaluating and publishing and disseminating demographic, economic and social data related to all persons and their settlements in a country for a specified period. In other words, the census is a special exercise aimed at finding the total population in a country, by age and gender, place of residence and status of education, employment status, birth status and mortality and housing status.
These basic data are the ones that can match the real needs of citizens including special groups with special needs for example, people with disabilities, women, children, youth and the elderly thus facilitating the development of policies and development plans according to the need and environment.
The Population and Housing Census is a national exercise conducted every 10 years where the last census to be held in the country is the one in 2012. Thus the Census 2022 will be the Sixth Census to be held in the country after the Union of Tanganyika and Zanzibar in 1964. Census others took place in 1967, 1978, 1988, 2002 and 2012.
Ratiba ya sensa 2022

The Government of the United Republic of Tanzania, is preparing to do so Population and Housing Census which will be held on 23 August 2022. To achieve In this census, the Government is announcing temporary vacancies for census clerks and census supervisors for Tanzanians with the right motives and qualifications as specified in this announcement.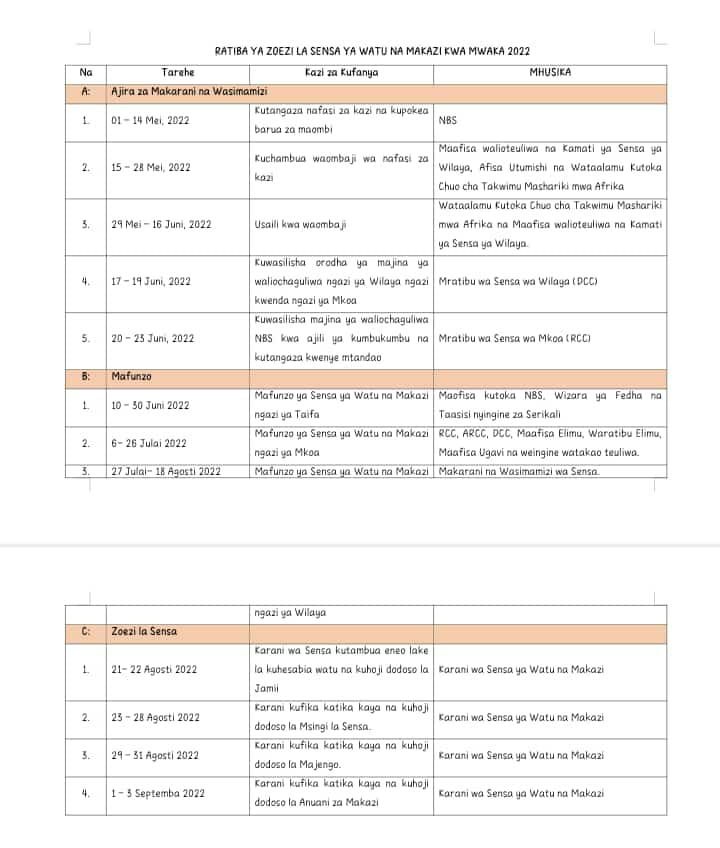 Tanzania Census 2022 | Census Date August 2022