Tangazo la nafasi za kazi sensa 2022 | Government announced Sensa Jobs 2022
Tangazo la nafasi za kazi sensa 2022
Tangazo la nafasi za kazi sensa 2022 | Government announced Sensa Jobs 2022. The ecruitment process begin May 5 and the deadline for application is May 19 2022. For more details on how to apply ajira za sensa 2022 Watch the video below
Tangazo la nafasi za kazi sensa 2022
Hon. Simbachawene said that the recruitment process for clerks and supervisors from May 05 to May 19,2022 which will involve all administrative levels to ensure they are available to qualified clerks and supervisors.
How to Apply Ajira za Sensa 2022
Kusoma vigezo na masharti ya kazi bonyeza hapa.
To Fill fomu ya maombi ya kazi za sensa bonyeza hapa
The online application system is available at the following websites; www.pmo.go.tz, www.tamisemi.go.tz, www.nbs.go.tz for Mainland Tanzania and www.ompr.go.tz, https: //www.tamisemi.go.tz or www.ocgs.go.tz for those applying for Tanzania Zanzibar, "he explained.
"There have been people or groups of people with bad intentions for the census exercise who have been trying to advertise Census jobs with the intention of cheating the people who need to participate in this exercise and perhaps with the intention of disrupting the whole process," said Hon. Simbachawene.
Also Hon. Simbachawene encouraged all eligible Tanzanians who would like to apply for the job to follow the prescribed procedure to apply for the job.
"The tasks to be combined with the applicant's qualifications are set out in the 2022 Clerk and Population Census Announcement for the Clergy and Housing Census Announcements. Simbachawene.
The government has warned some individuals or groups of people with bad intentions for the census exercise that have been advertising Census jobs with the intention of deceiving citizens who need to participate in the exercise.
This was stated on May, 05, 2022 in Dodoma by the Minister of State for the Office of the Prime Minister in charge of Policy, Parliament and Coordination Hon. George Simbachawene while talking to reporters about the commencement of the process of Recruitment of Clerks and Population and Housing Census Processors to be held August 23, 2022 Nationwide.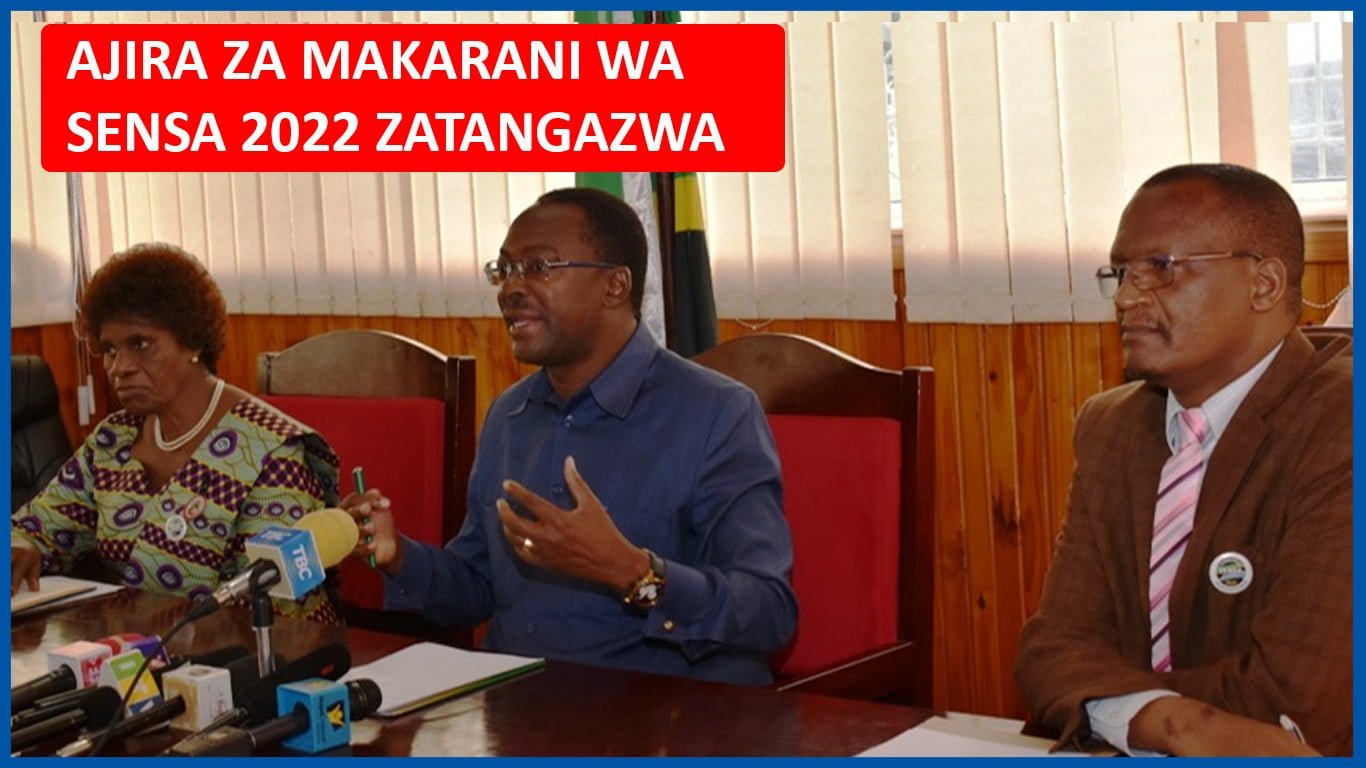 Regarding the application process, he noted that applicants will be required to submit their applications online which will not involve any payment to the job applicant.
He also concluded that the process of analyzing job applications and interviews will be overseen by a special committee to be set up at each district level and interviews will be conducted at the county level for positions of clerks and content managers and at the district level for ICT supervisors, "concluded Hon. . Simbachawene.