588 Job vacancies at Kibondo District Kigoma _ Various Posts
Job vacancies at Kibondo District Kigoma
Job vacancies at Kibondo District Kigoma. Kibondo District was re-established 1983 after series landmarks that led to the enacting of Local Government Act no 7 [District Authorities] of 1982. Previously the District was used as a host for refugees from Republic of Burundi and Democratic of Republic of Congo. In 2013 Kibondo District Council divided to form Kakonko District Council.
The Predominant ethnic groups include the Ha tribe; they refered to their homeland as Buha. The Ha people are Bantu-speaking group they rely on agriculture as main food and income source. The group also engages in livestock keeping as cattle plays an important role in traditional ceremonies and establishing social tie, and historically the group is known for iron smelting . Other ethics groups found in the District include Nyamwezi, Haya, Sukuma, Jita, Kulya and Nyakyusa.
According to 2012 National Population and Housing Census report, Kibondo District had a population of 261,331 of which 124,518 males and 136,813 are females. The average population growth rate per annum is 2.7%. The data reveals that 37.3% of total populations are working population.  The average family size is 5 persons and the life expectancy is set at an average of 52 years. The population estimated in August 2016 shows that currently Kibondo has a population of about 290,719 of which males are 141,632 and females are 149,087.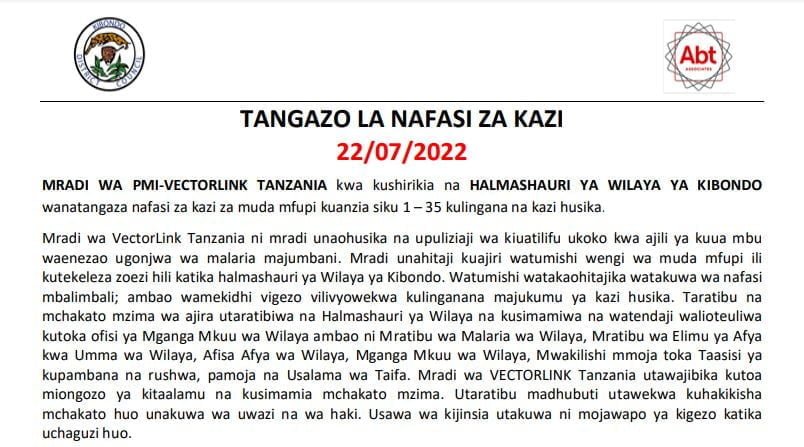 588 Job vacancies at Kibondo District Kigoma _ Various Posts
PMI-VECTORLINK TANZANIA PROJECT in partnership with KIBONDO DISTRICT COUNCIL
they advertise short-term jobs from 1 – 35 days depending on the job. Open the attached PDF file below or CLICK HERE TP DOWNLOAD PDF