Sensa News today November 2022 | Matokeo ya Sensa 2022
Sensa News today
Sensa News today November 2022 | Matokeo ya Sensa 2022. Matokeo ya sensa 2022, The number of people in Tanzania has reached 61,741,120 million, where women are 31,687,990 and men are 30,053,130
Dar es Salaam leading in the largest number with 5,383,728 people, followed by Mwanza with 3,699,872 people
Announcing the Results President Samia says "With the authority given to me by the JMT constitution of 1977, I announce to you that Tanzania has a population of 61,741,120 people"
59,851,347 people are in mainland Tanzania and 1,889,773 in Tanzania Zanzibar.

There are 31,687,990 women equal to 51 percent of all people and 30,530,130 men equal to 49 percent of all people.

Between 2012 and 2022, the population increase is equal to 3.2 percent

In mainland Tanzania, the DSM region leads the country in population, there are 5,383,728 equal to 8.7 percent of all people in the country, and the second region is Mwanza with 3,696,872 inhabitants equal to 6 percent.

The number of buildings is 14,348,372

In terms of schools, there are 25,626 of which there are 19,769 primary schools and 5857 secondary schools.

Estimates show that by 2025 Tanzania will have 67,962,097 people and by 2050 the number will reach 151,252,429.
BONYEZA HAPA KUONA MATOKEO YOTE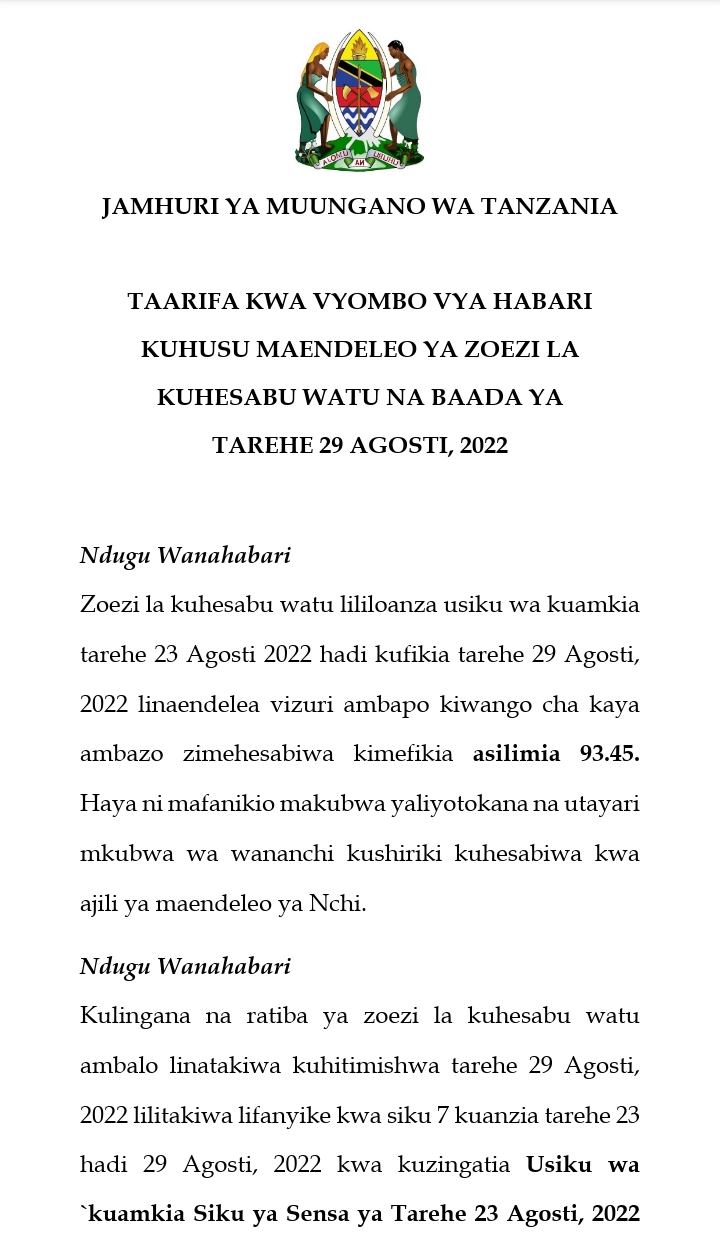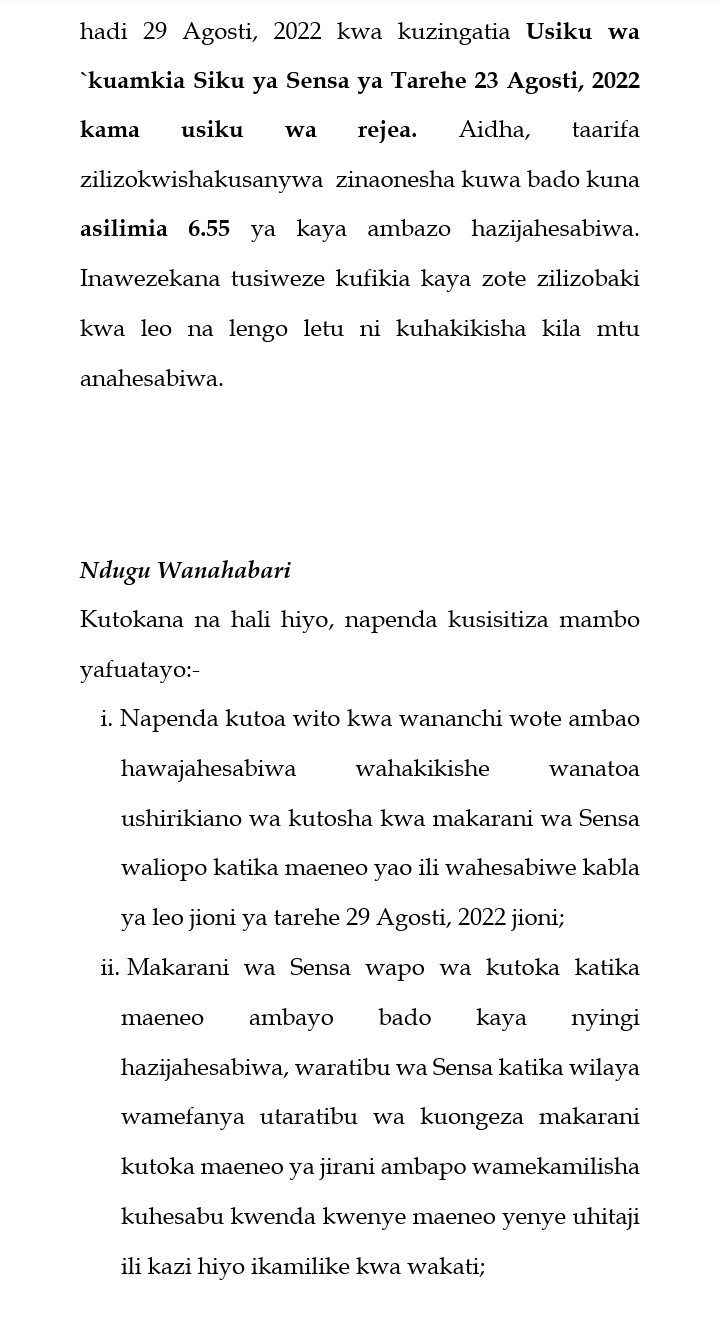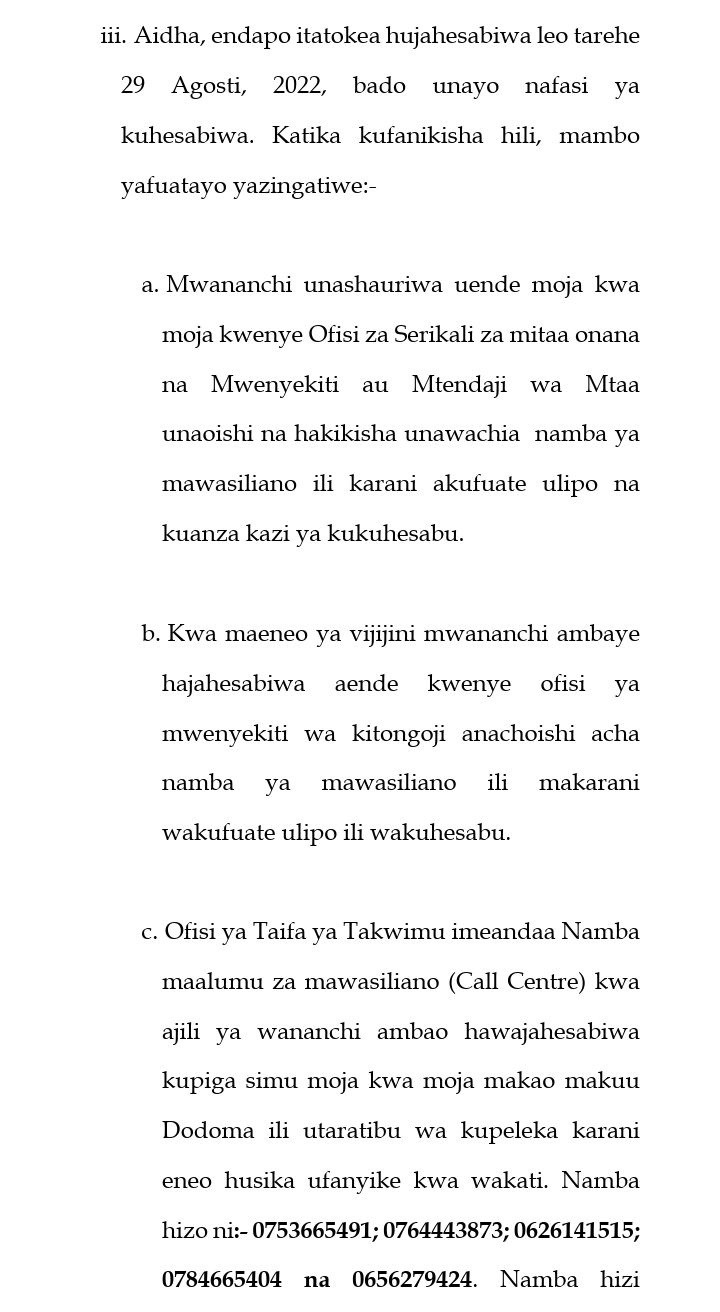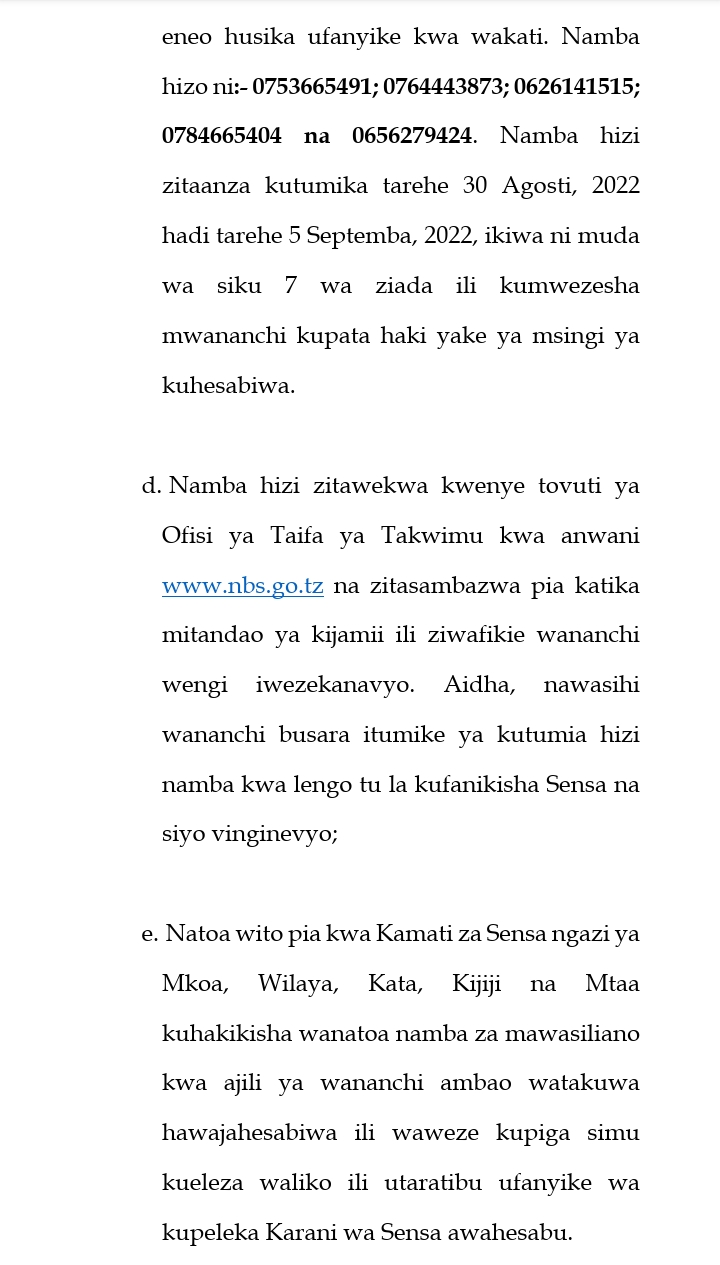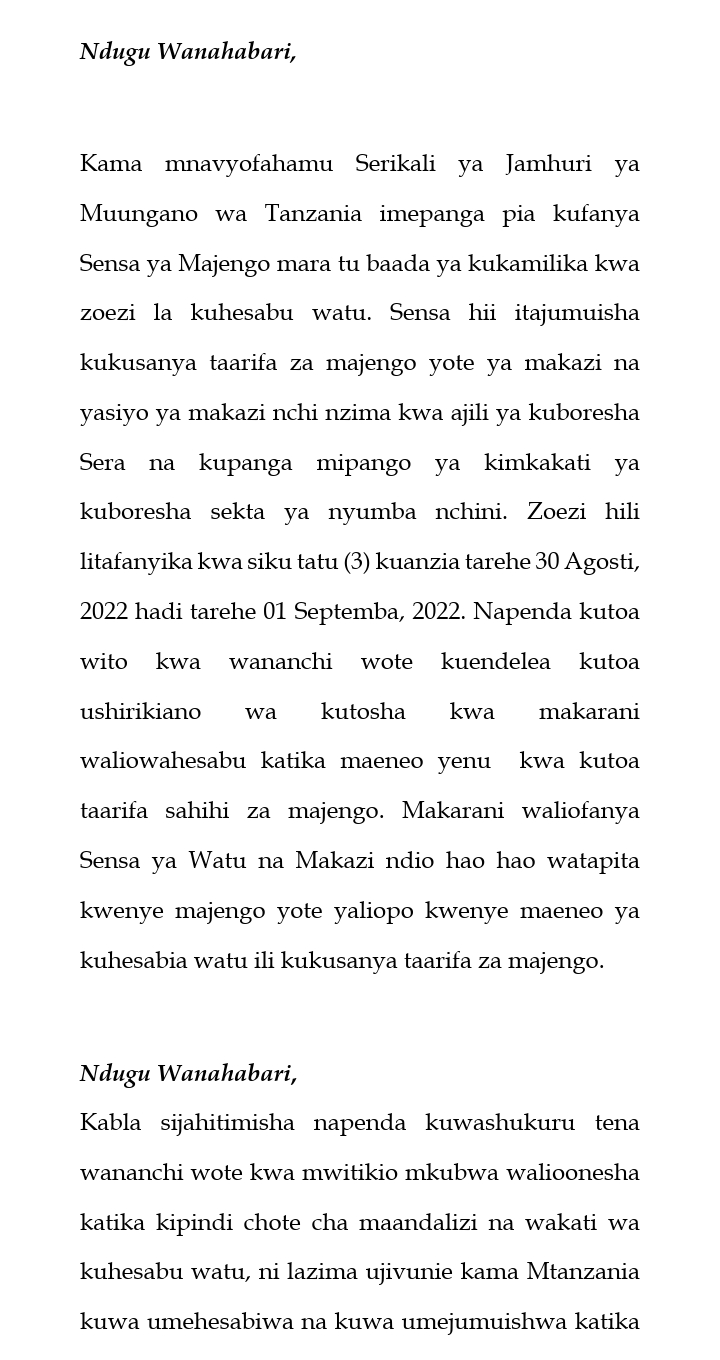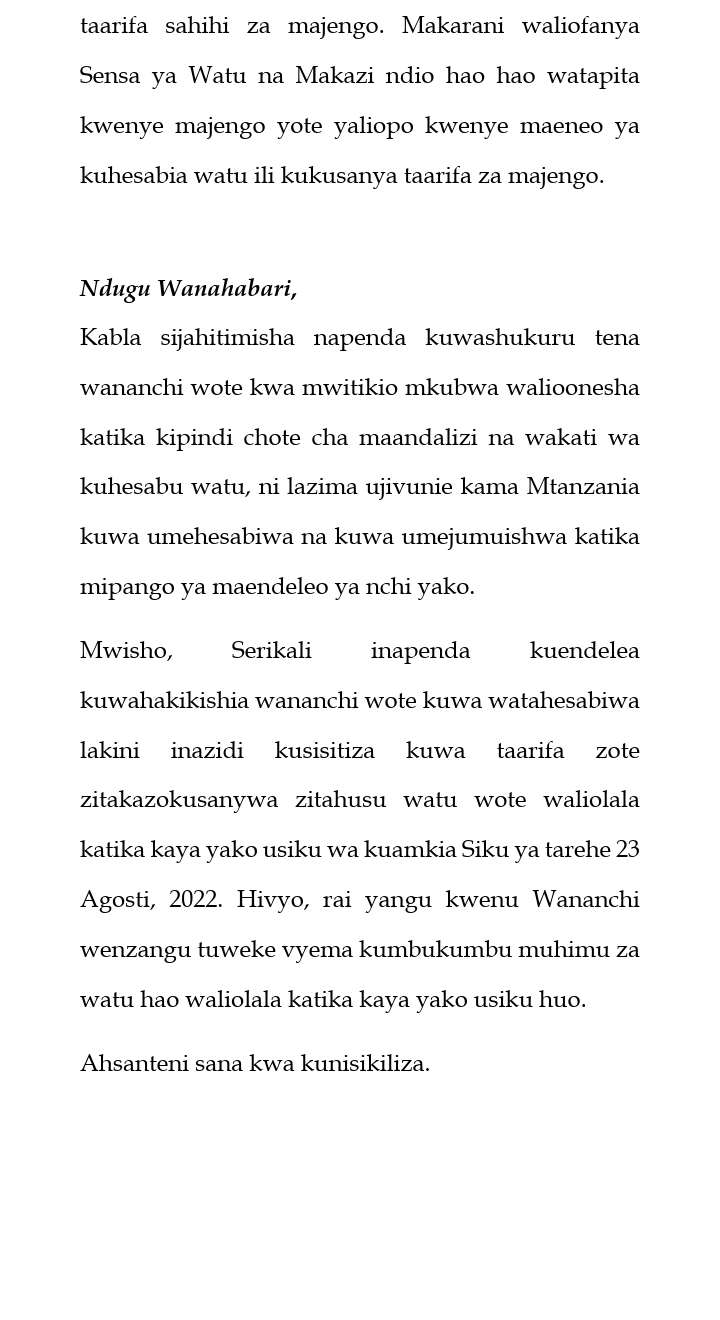 LIST OF QUESTIONS FOR THE 2022 PEOPLE AND HOUSING CENSUS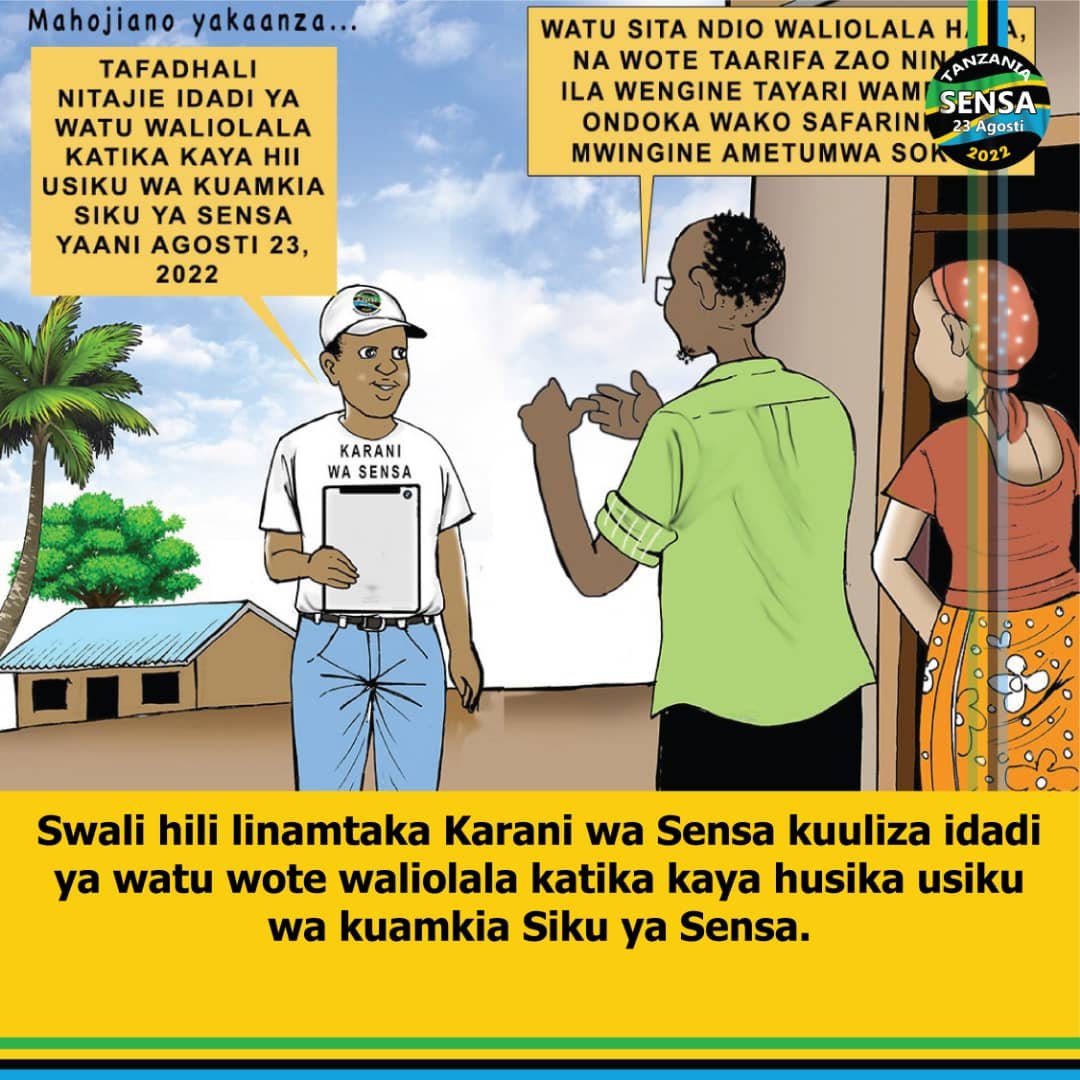 All questions of the 2022 Population and Housing Census must be answered by the Head of The relevant household, except QUESTIONS ON MATERNITY STATUS starting from question No. 67 to 71 which must be answered by the woman herself who is 10 years old or older.
MEANING OF HEAD OF HOUSEHOLD: For Census purposes, Head of Household is any person an adult whom all the people in the respective household recognize as the Head of that Household.
MEANING OF HOUSEHOLD: For Census purposes, a household is the total number of persons who usually they live and eat together (ie they cooperate in getting their daily needs).
It is possible that the household is husband, wife, children and other relatives, guests and servants in the household and they should be counted as members of that household if they slept in the respective household the night before Census day. If a person lives and eats alone, then, let him be counted as a household of one person even if he lives in a house of many people.
CLICK HERE TO THE LIST OF QUSTIONS
Sensa news Today July 28, 2022
Sensa News today July 16, 2022
Sensa News today July 06, 2022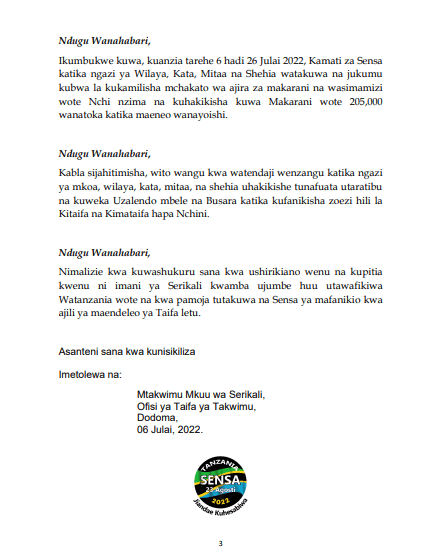 "The government of the United Republic of Tanzania completed the process of receiving temporary applications for clerks and supervisors of the population and housing census through the electronic application system on 19 May 2022.
This process is in various stages of implementation where when completed, these national census and housing census trainers ie these graduates today will go on to train those at the regional level and those at the regional level and themselves will go on to train their subordinates "
This was stated today at the closing ceremony of the training of National Census trainers trainers by Hon. George Simbachawene, Minister of State, Office of the Prime Minister (Policy, Parliament and Coordination)
Sensa News June 21, 2022 | Training of Census Coordinators at Iringa
The National Bureau of Statistics (NBS) and the Office of the Chief Statistician (OCGS) Zanzibar are conducting training for Regional Census Coordinators to train District and Council Census Census Coordinators. This training is taking place in Iringa region.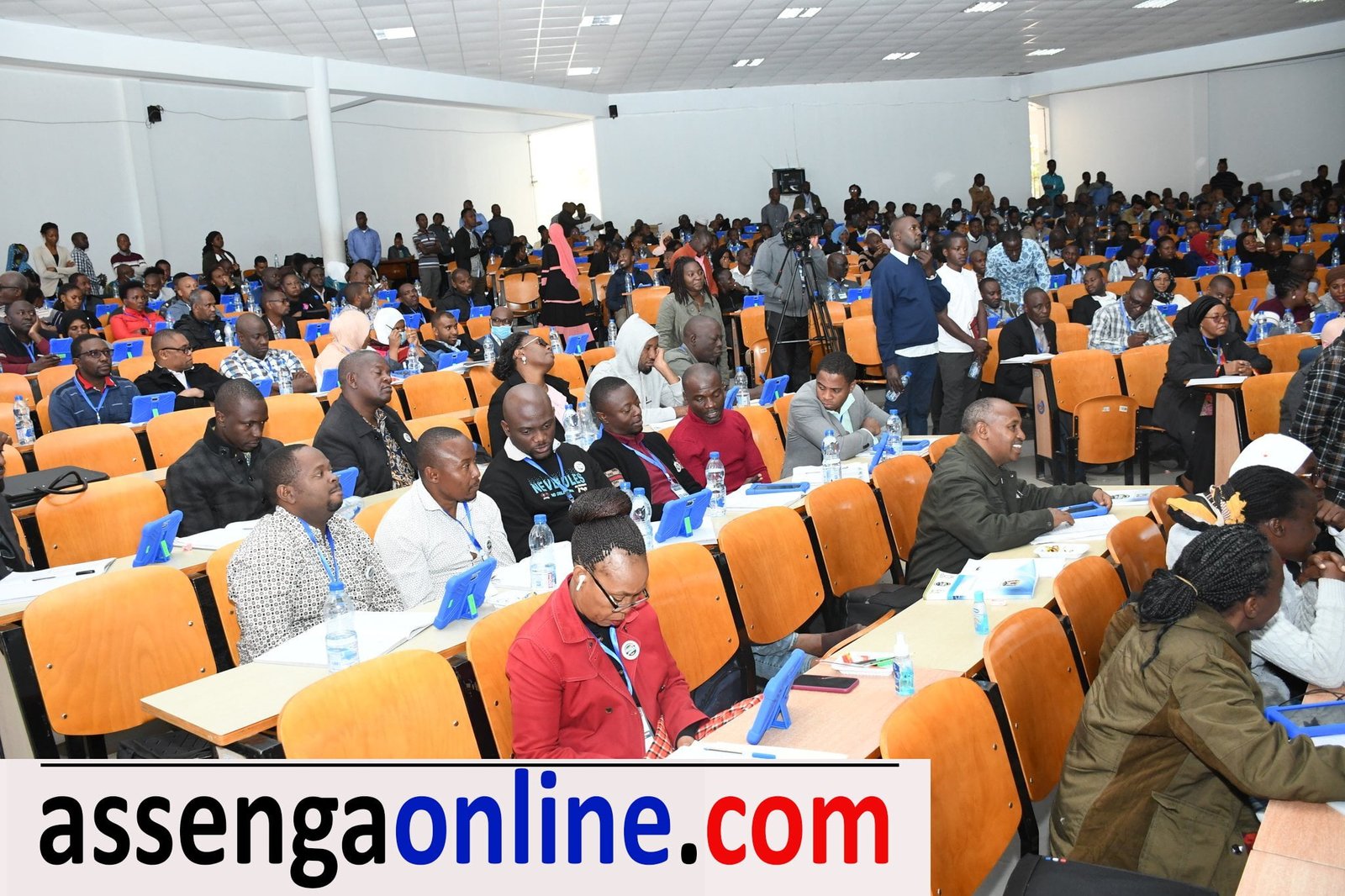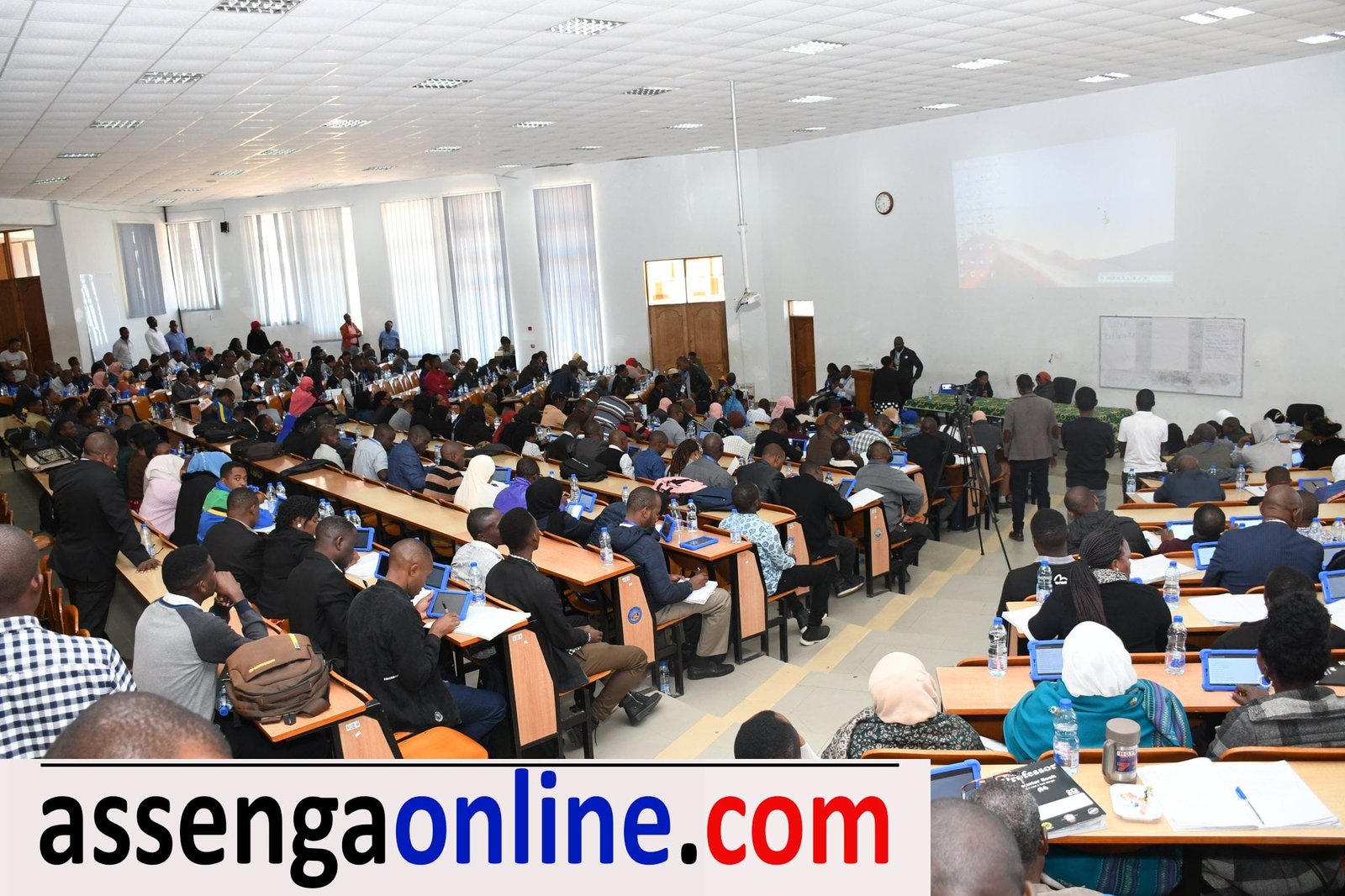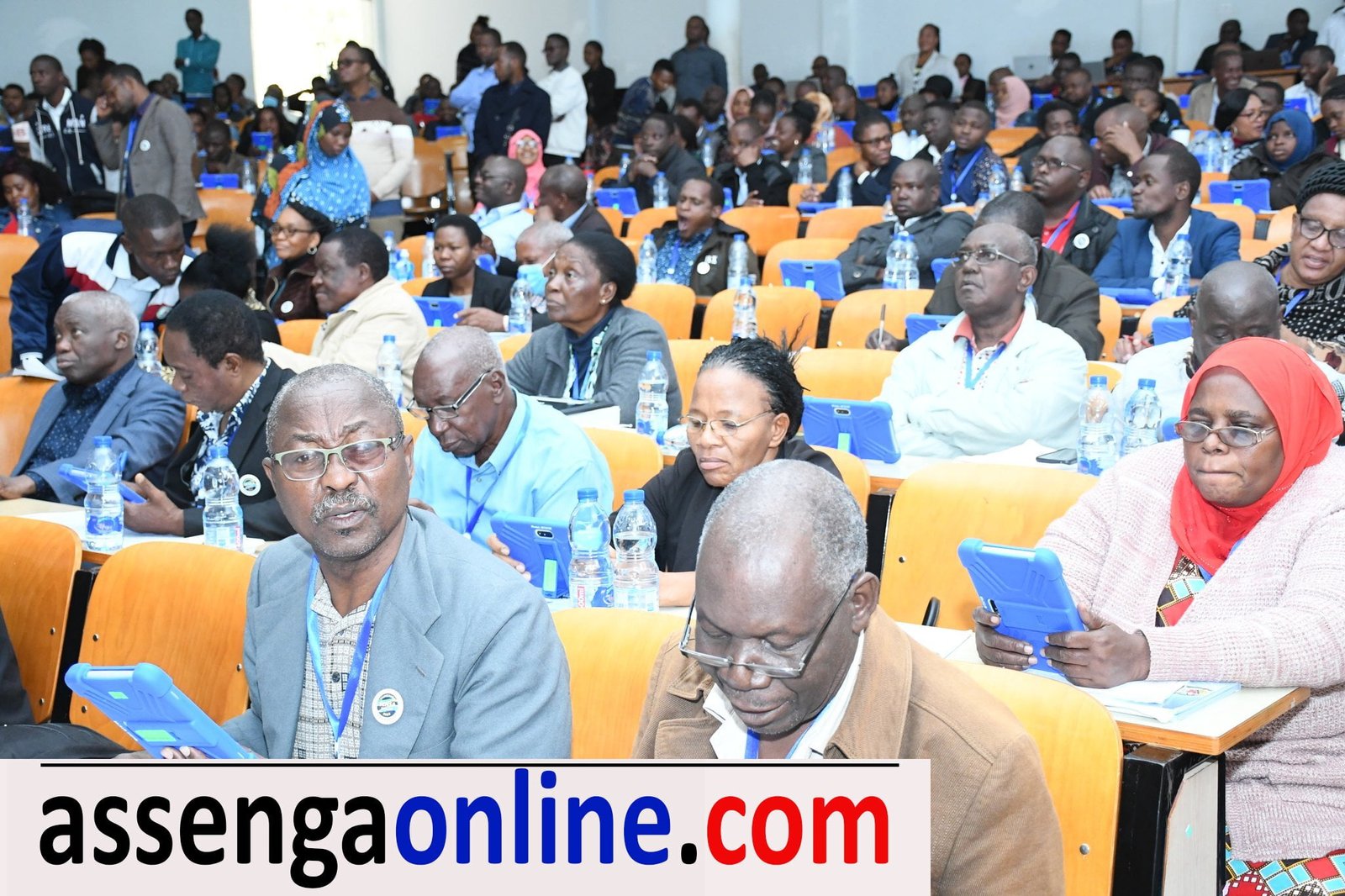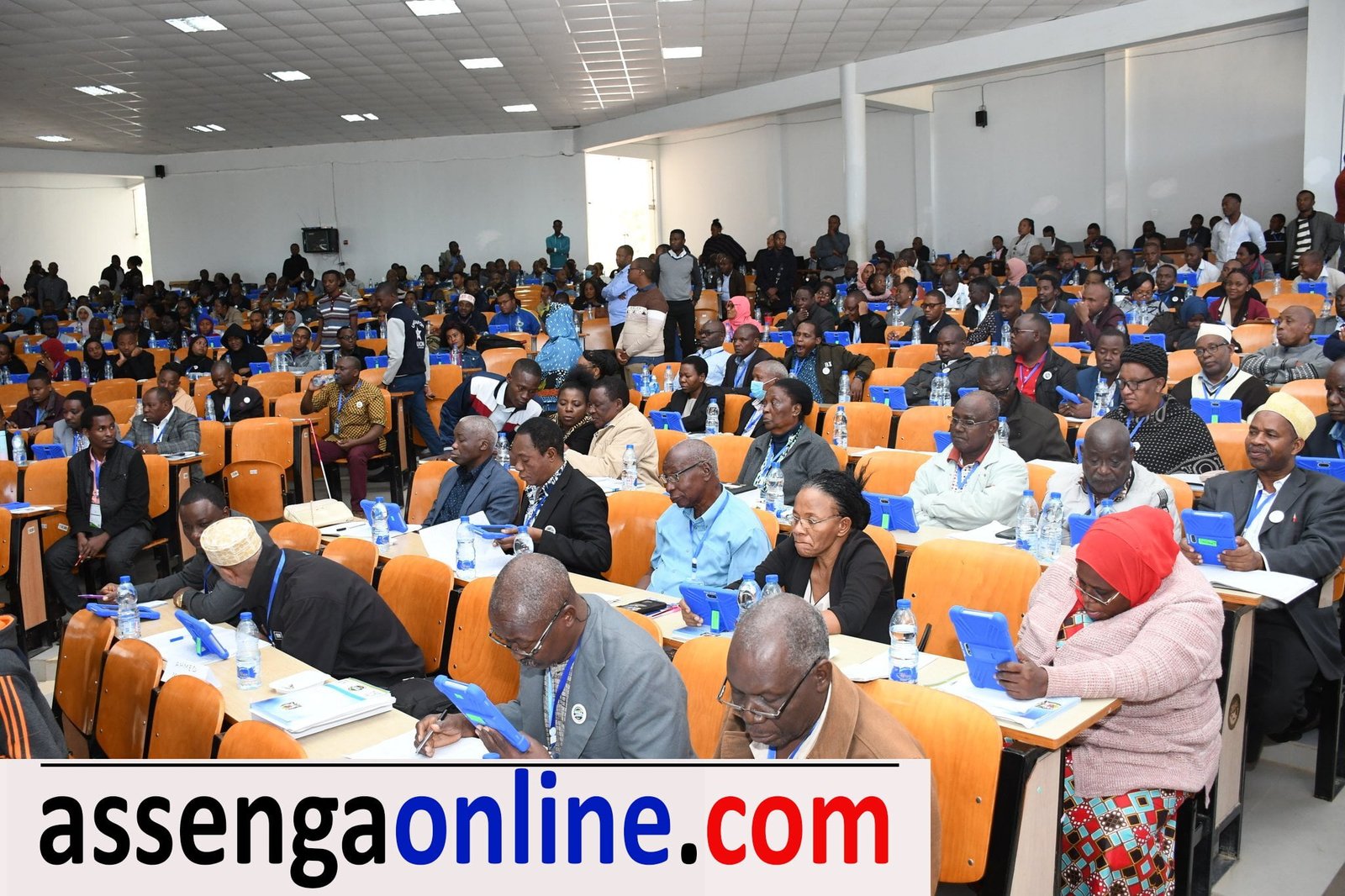 Ofisi ya Taifa ya Takwimu (NBS) na Ofisi ya Mtakwimu Mkuu wa Serikali (OCGS) Zanzibar zinaendelea na mafunzo kwa Waratibu wa Sensa ngazi ya Mikoa kwa ajili ya kwenda kufundisha Waratibu wa Sensa ngazi ya Wilaya na Halmashauri. Mafunzo haya yanafanyika mkoani Iringa. pic.twitter.com/bosZC8wNnl

— NBS (@NBSTanzania) June 21, 2022
SENSA News Today June 19, 2022| Makarani wa sensa wamepewa Mafunzo
The National Bureau of Statistics (NBS) has said for the first time since #Tanzania gained independence, this year's population and housing census will integrate all suburban areas into a digital system and simplify the task of collecting relevant data in a simple and transparent manner. the fastest.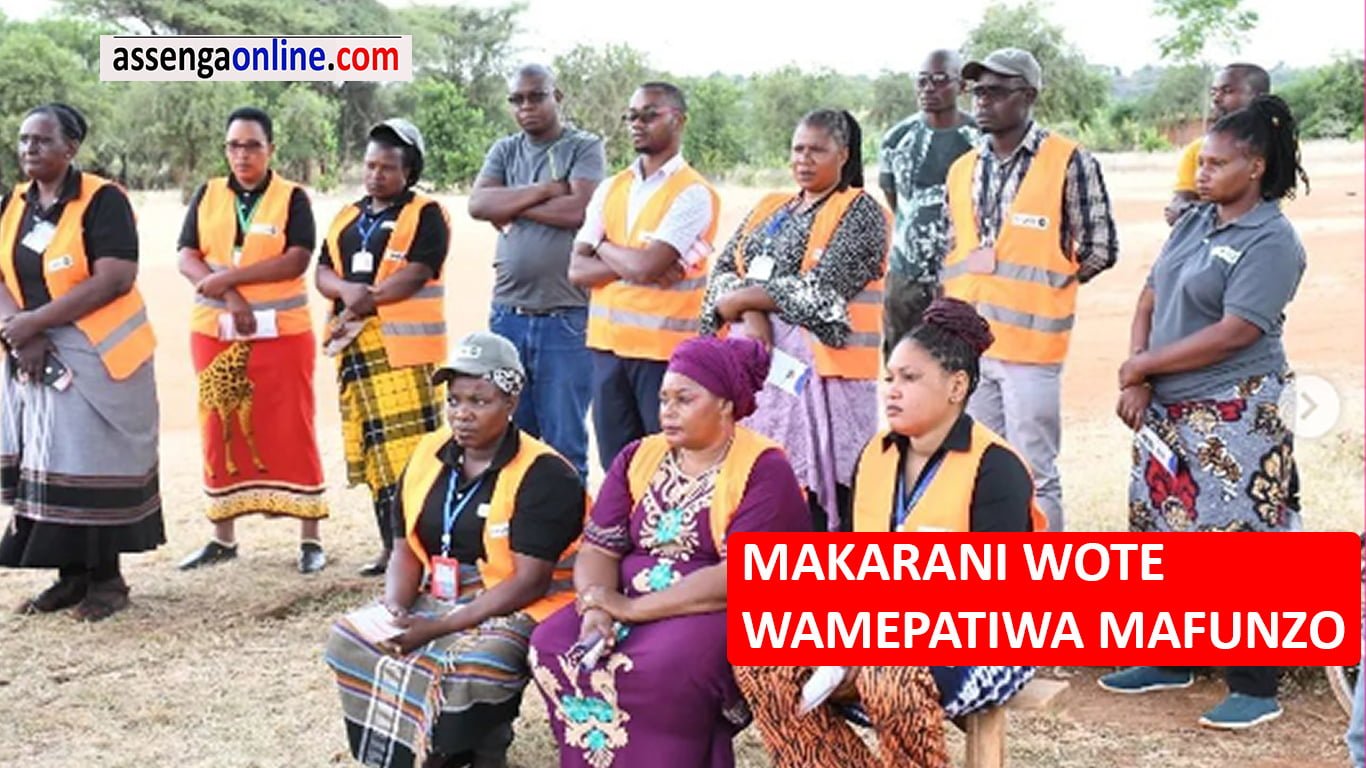 Speaking to the Editorial Forum in Morogoro, the Head of Geographic Information Systems (GIS) and Acting Manager of Statistical Operations, Benedict Mgambi, said this year's census scheduled for August 23-29 will be more digital and more efficient in data collection. of information different from previous years.
He explained that this will be possible because all clerks have been trained to use digital systems with the aim of sending information directly to the NBS headquarters database as well as the availability of a system to track all clerks wherever they are.
From the start of the census activity in 1967 to 2012, this year's census will be unique and will involve a small number of clerks due to the improvement of operational infrastructure.
This year's census, Tanzania is expected to have 61.3 million people, while the first census in 1967, Tanzania had 12.3 million people, in 1978 it had 17.5 million people, in 1988 it had 23.1 million people and in 2012 it had a million people 44.9.
 Launch of Training at National level ICT Officers
 Launch of Training at National level ICT Officers for the Management of Population and Housing Census 2022. These IT specialists will be the ones to train the IT Census Management Officers at District and Regional level.
Watch the video below census commissioner Anna Makinda Launch of Training at National level ICT Officers for the Management of Population and Housing Census 2022.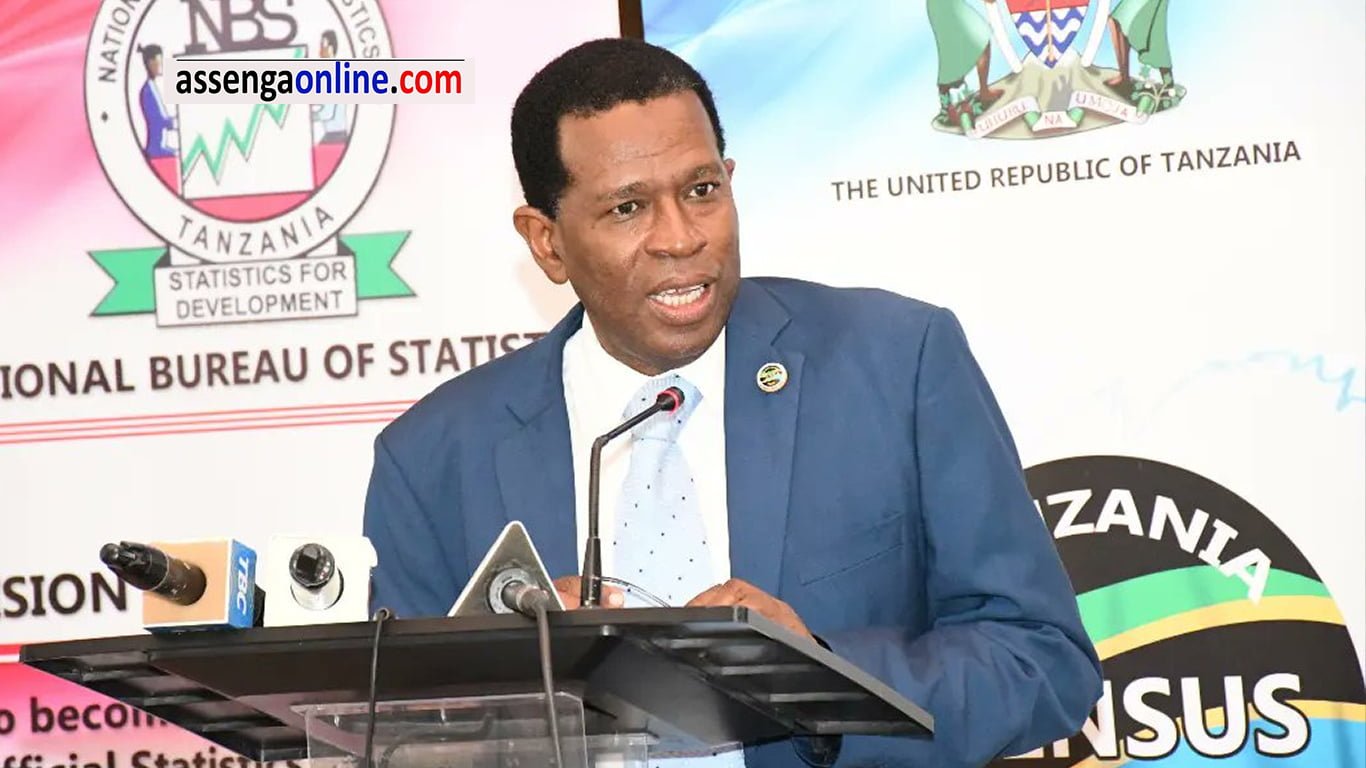 The Government of the United Republic of Tanzania plans to conduct a Population and Housing Census by August 2022. The Ministry of Finance and Planning through the National Bureau of Statistics (NBS) in collaboration with the Office of the Chief Statistician of Zanzibar (OCGS), is in the process of preparing to conduct the Census. The Population and Housing Census is a national exercise conducted every 10 years where the last census to be held in the country is the one in 2012. Thus the Census 2022 will be the Sixth Census to be held in the country after the Union of Tanganyika and Zanzibar in 1964. Census others took place in 1967, 1978, 1988, 2002 and 2012.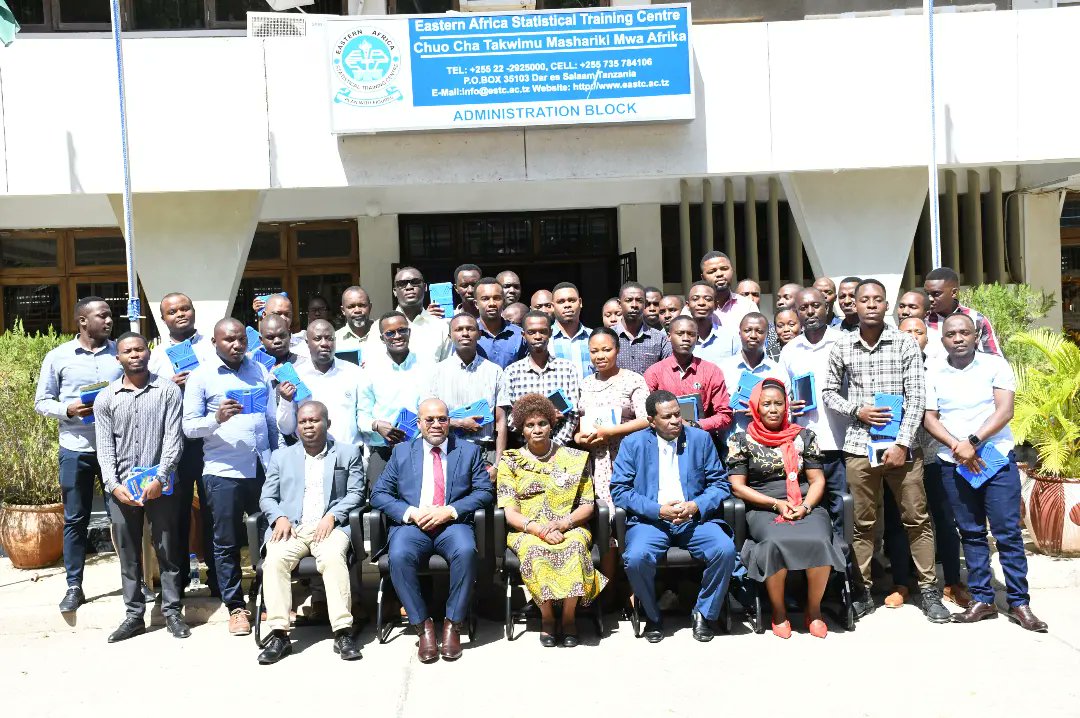 Population and housing census is a process of collecting, analyzing, evaluating and publishing and disseminating demographic, economic and social data related to all persons and their settlements in a country for a specified period. In other words, the census is a special exercise aimed at finding the total population in a country, by age and gender, place of residence and status of education, employment status, birth status and mortality and housing status.
These basic data are the ones that can match the real needs of citizens including special groups with special needs for example, people with disabilities, women, children, youth and the elderly thus facilitating the development of policies and development plans according to the need and environment.