Mfumo wa maombi ya ajira UTUMISHI Ajira Portal , The Public Service Recruitment Secretariat (PSRS) is a government organ with a status of independent Department established specifically to facilitate the recruitment process of employees to the Public Service. Public Service Recruitment Secretariat was established by the Public Service Act No. 8 0f 2002 as amended by Act No. 18 of 2007, section 29(1).
Functions Of Public Service Recruitment Secretariat (Ajira portal )
The major role of PSRS is to facilitate recruitment in the Public Service. According to the Public Service Cap. 298 of 2002 as amended by Amendment Act No. 18 of 2007 section 29 (1), the functions of PSRS are:-
Search for various professionals with special skills and prepare database for such professionals for easier recruitment;
Register graduates and professionals for purposes of ease of reference of filling vacant posts;
Advertise vacant posts occurring in the public service;
Engage appropriate experts for purposes of conducting interviews
Advise employers on various matters related to recruitment, and
Do any other act or thing which may be directed by the Minister responsible for Public Service.
Step by step How to apply Job in Ajira Portal 2023
Ajira portal is the simple way to apply for government jobs. Every day thousands of jobs are announced UTUMISHI. You can apply to those jobs if you have already register in ajira portal and you have already account. If you have not yet created account in this guide below will show you step by step on how to reregister in UTUMISHI.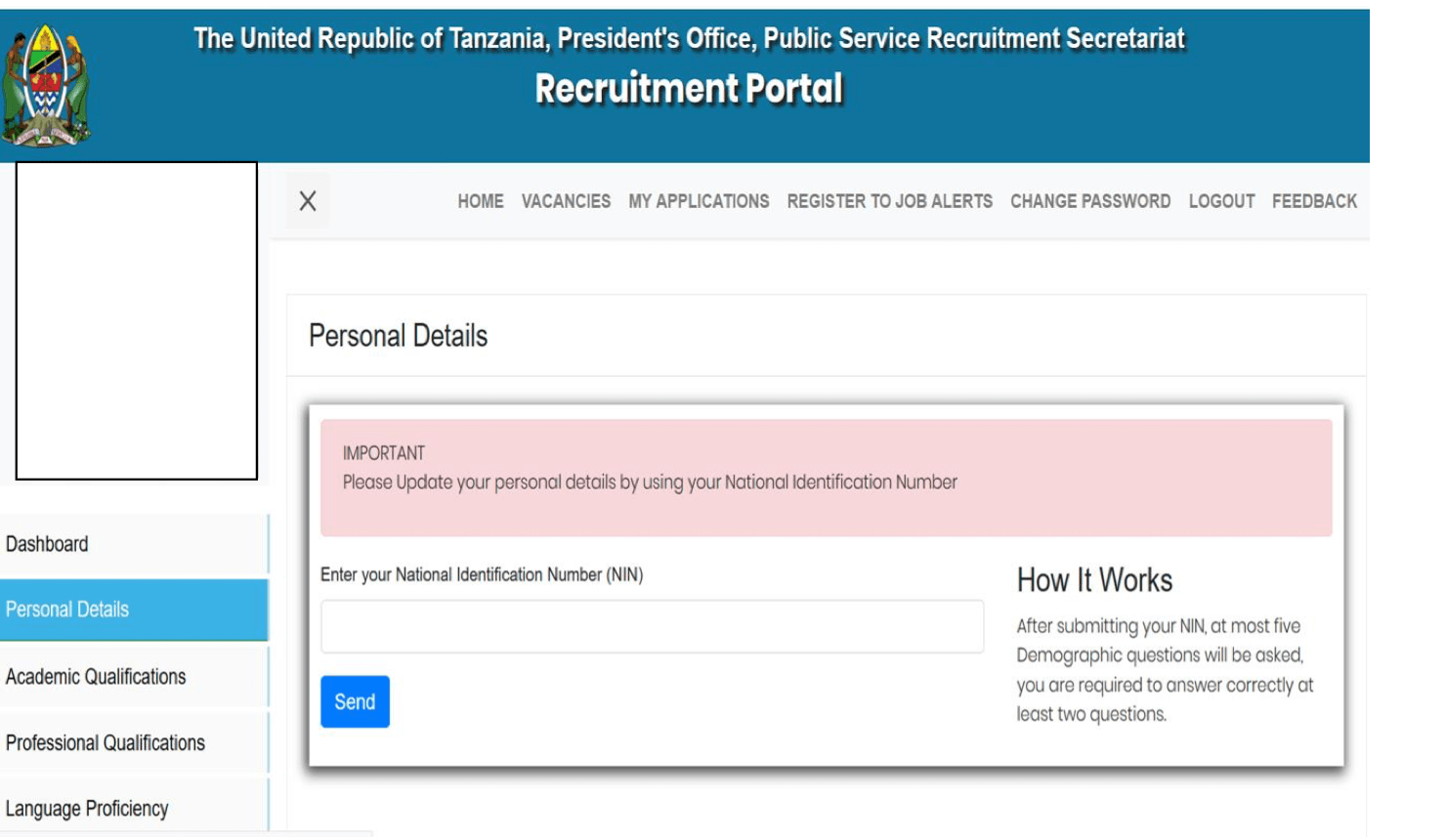 The applicant is required to enter the correct National Identification Number (commonly known as NIDA number) and once it has been verified, the information will be fetched and filled in the form.
Once the information has been filled in, you are then required to fill in all the necessary information to finalise your personal details and click 'save' button to upload changes to the system.
You will be required to fill in relevant contact information including your telephone number, postal and current adress, etc. All the information must be selected from the option available. Only the mobile number can be inputed.
Programme Categories have now been added to the 'Academic Qualifications' and you will be required to choose the appropriate category in order to find your relevant programme name. If you do not see the programme name you are searching for, please check with another closely related category. If you have studied outside Tanzania, you will be required to fill in the category and the PSRS administrator will then verify the correctness of your selection.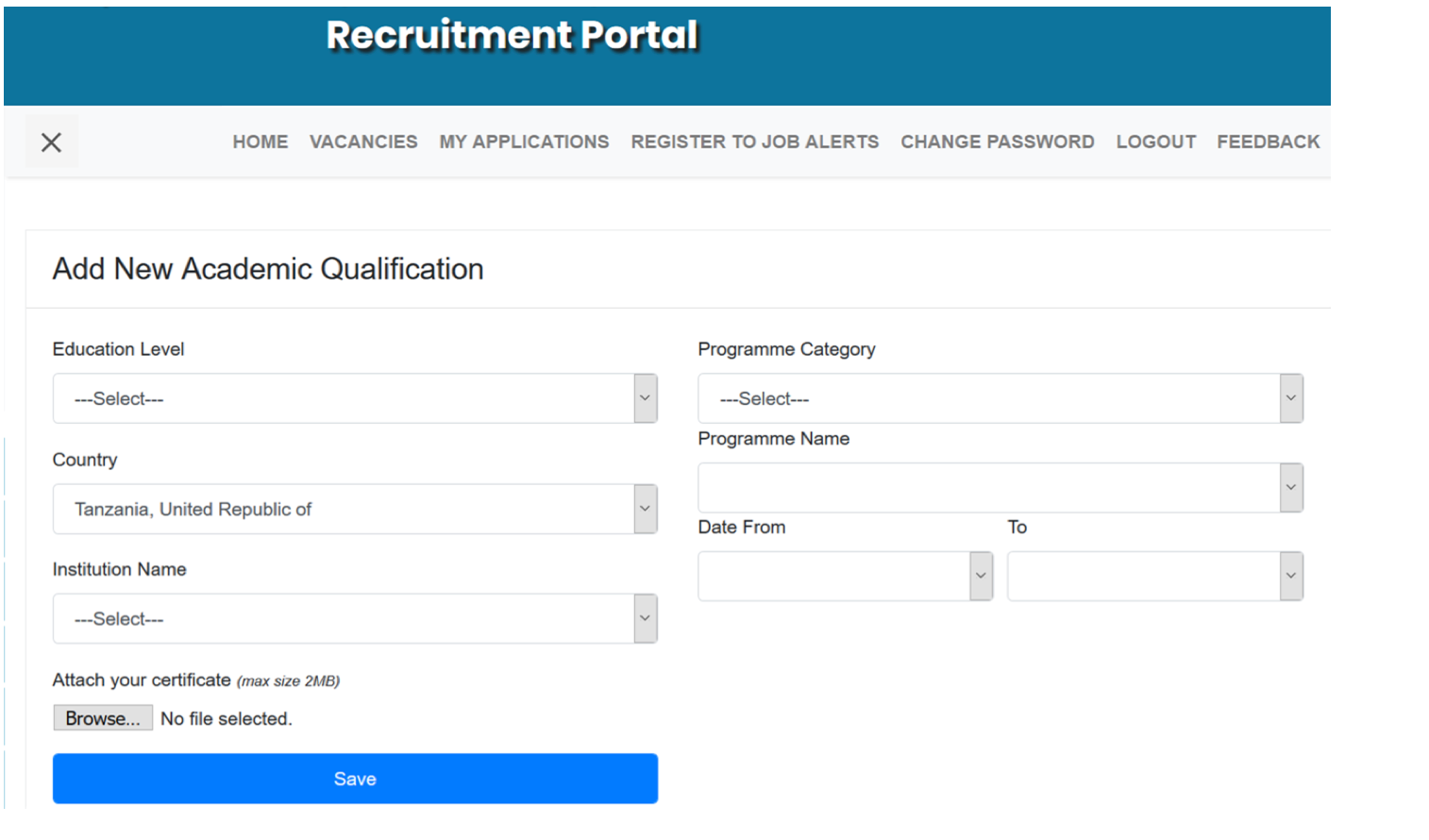 Fill in all the required information by following these steps:
3.1. Select education level
3.2. Select the country of study
3.3. Select the appropriate 'Programme Category' (choosing the correct category ensures that you will find the programme names associated with a specific category)
3.4. Select the appropriate 'Programme Name'. This should be the same as what is written on the specific certificate you are trying to upload. If you can not find your 'Programme Name' it is likely that you chose an incorrect category, therefore choose another more related programme category and search through the 'Programme Name' again to find the correct name.
3.5.  Select or type in the institution name. If the institution name is not available, type in the full name, no abbreviations are allowed.
3.6.  Input the start and finish date
3.7.  Attach your certificate. Ensure that the cerificate you attach is not more than 2MB.
3.8.  Click save to upload the changes into the system.
Note:
You are required to enter each certificate individually.
While entering information about CSE and ACSE, ensure that you enter the correct index

number.

Those who have studied outside Tanzania are required to have certificate verification

letter or certificate from NECTA (for secondary education), NACTE (for diploma and certificates) and TCU (for university education).
Through the 'My Applications' you will now be able to see the status of all your application from start of the process to finish.
Through the application status you will be able to see the following:-
1. Whether you application has been received or not. If the job vacancy you have applied for is not visible in this list, it means you did not complete the application process hence you need to repeat it.
2. Whether you have been shortlisted or not shortlisted. If not shortlisted, the reason will be specified.
3. Call for interview (these can be written, practical and oral interviews).
4. If you have been successful, the status will show your placement as well.
Editing your application letter
The application letter is edited by removing the previous letter and attaching a new one. This can only be done while the application process is still open.