Simba vs Wydad live updates | Match day CAF Champions league quarter-final
Simba vs Wydad live
Simba vs Wydad live updates | Match day CAF Champions league quarter-finall. 
Head Coach Roberto Oliviera
Head Coach Roberto Oliviera 'Robertinho' has said that our squad is ready for tomorrow's African Champions League Quarter Final game against Wydad Casablanca which will be played at Benjamin Mkapa Stadium at 10pm.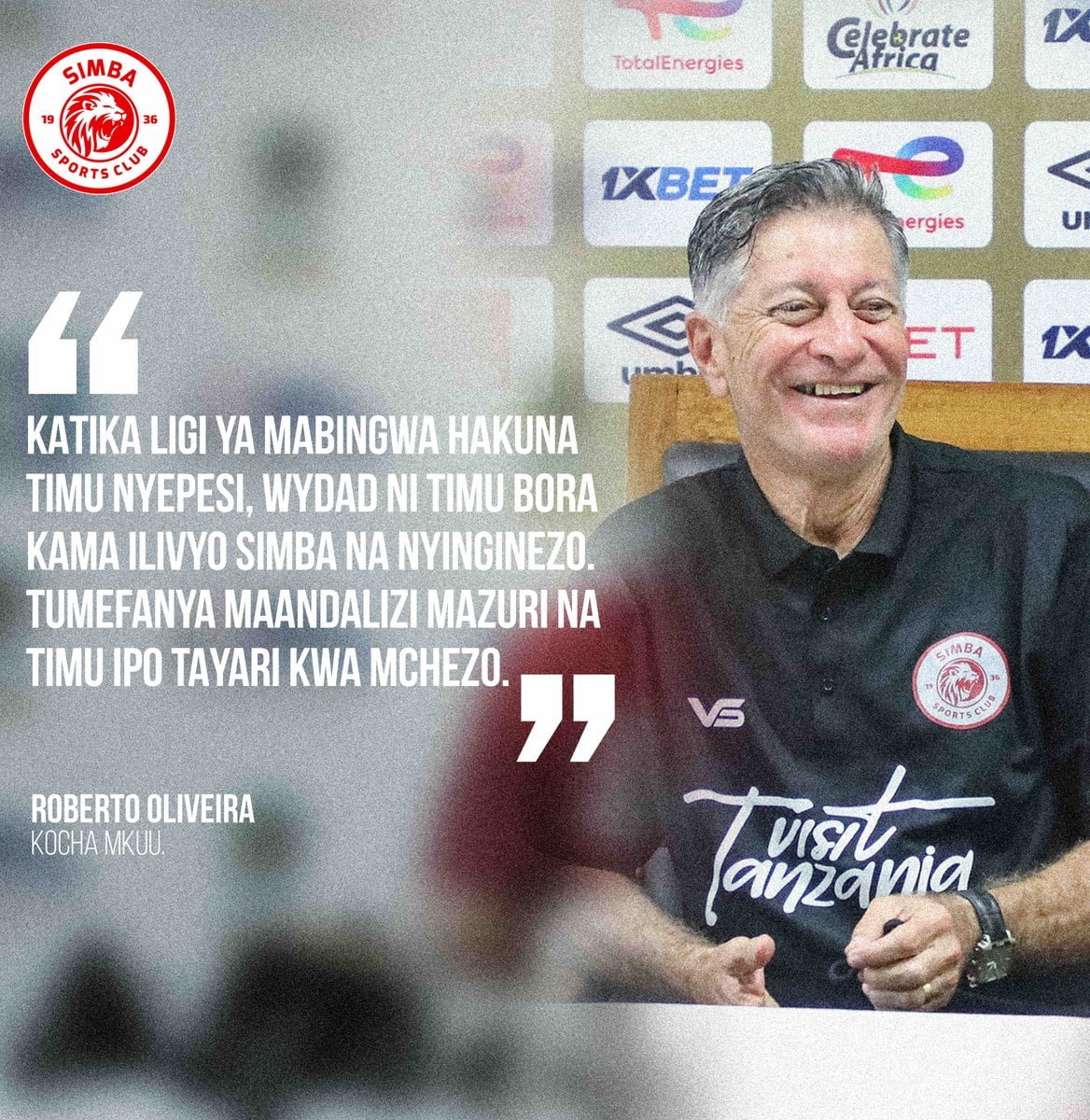 Robertinho has said that we will go into the game with one goal to make sure we play well and win at home.
Robertinho has said that he has stressed the players to make sure they play better when we don't have the ball because it will be easier to read the opponents.
Robertinho has admitted that the game will be difficult and we respect Wydad due to their quality and their history but we are fully prepared and ready for the game.
"There is no light team in the Champions League, Wydad is the best team as are Simba and others. We have made good preparations and the team is ready for the game.
"We have stressed the players to play well when we do not have the ball because it will help us study the opponents, we need to win in tandem and play well," said Robertinho.
Kapombe
Kapombe has asked our fans to train a lot on the field as they have a great contribution in achieving victory.
It is clear that our game tomorrow in the quarter-finals of the African Champions League against Wydad Casablanca will be difficult, but our players are ready to ensure that things turn out well for us.
Right guard Shomari Kapombe, said the players are physically and mentally prepared to ensure that we get a big win at home in front of the defending champions of this tournament.
Kapombe said Wydad is the best team but we are prepared to make sure we get a good win at home because we know if we go to Morocco the match will be more difficult.
Viingilio Mchezo wa Simba vs Wydad
Tickets for Simba sports in African Champions League quarter-final game against Wydad Casablanca have already been announced and the price will be Sh. 5000.
The entries are as follows:
Round Shs 5000
Oranges Sh 10,000
VIP C Sh 15,000
VIP B Sh. 20,000
VIP A Sh. 30,000
As was the case in the previous game against Yanga, there will also be Mnyama Package, Simba Executive and Platinum.
Mnyama Package: These are for a group of people, friends who would like to stay together, so their tickets will start to be sold for 20 people. In this package you can buy Round, VIP A, B and C tickets.
Simba Executive: This is for Organizations, Companies and Institutions who would like their employees to participate in our Saturday game. Executive tickets cost Shs. 20,000 per person, and if you buy from 20 tickets onwards you will be given permission to enter your car into the Stadium (Car gate pass).
Platinum: Its cost is Sh.150, 000, those who will buy these tickets will get transportation from Hyatt Regency to the Stadium. They will have snacks and food while in the field.
Kikosi cha Simba Vs Wydad