Mshindi wa SportPesa Akabithiwa 1,255,316,060/=
Mshindi wa SportPesa Akabithiwa 1,255,316,060/=. SPORTPESA Tanzania has officially unveiled Florian Valerian Massawe, the winner of the company's betting game, Jackpot, that was presented with prize money totaling 1,255,316,060/- in Dar es Salaam yesterday.
Thirty-six-year-old Massawe that resides in Kiluvya is a mechanic and has successfully become SportPesa's first billionaire after correctly predicting all 13 Jackpot matches last week.
SportPesa Board of Directors Chairman Tarimba Abbas congratulated Massawe, the game's eighth winner, for his victory and for becoming the first billionaire that is also a football follower.
Mshindi wa SportPesa Akabithiwa 1,255,316,060/=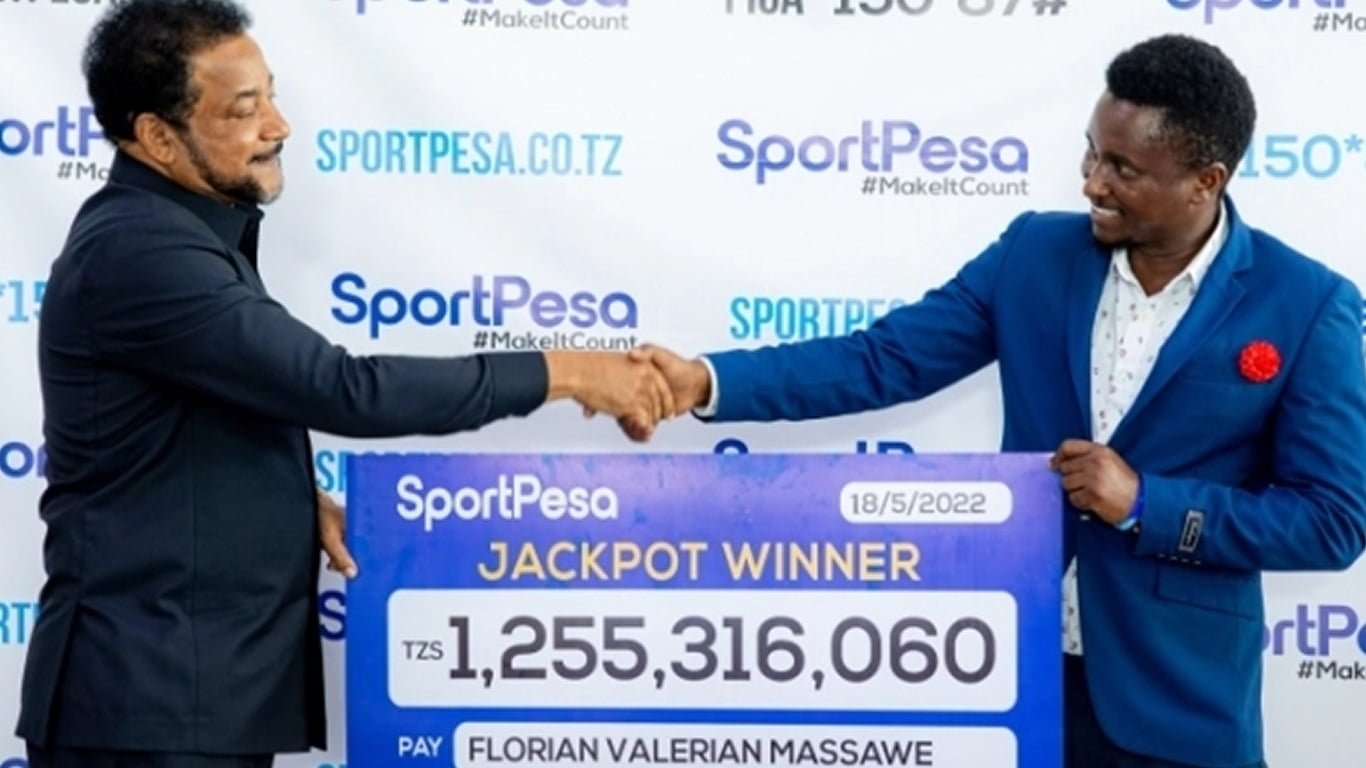 Abbas noted: "Today is a happy day for me and for all the other Sportpesa employees for finding the Jackpot winner. I would like to take this opportunity on behalf of the company to introduce Massawe as the official winner of our Jackpot having won more than 1.2bn/-."
The official added: "Fortunately our winner has been found as we celebrate five years since the start of sports betting activities here in Tanzania. Massawe's victory has fulfilled our mission to empower and uplift Tanzanians economically and create the first billionaire."
"You are all witnesses today, this amount of money he won is huge and will improve his life and that of his family as well as the community in which he lives."

"This is a historic moment for our company to be the first to announce the biggest winner in the sports betting industry who is today being handed a check for the money he won."
"Let me inform Tanzanians this is the eighth winner of our Jackpot. I would like to remind you to play with Sportpesa to become billionaires."
Speaking on behalf of the Tanzania Revenue Authority (TRA), Head of the Gaming Unit Shabani Mwanga congratulated Massawe on his victory.
He also lauded the winner for being a patriotic Tanzanian who has contributed to the country's economy with taxes that have come from his Jackpot victory.
Mwanga disclosed: "As a TRA representative I am relieved by your victory and also by the contribution you have made not only to this level of 1.2bn/- but also to the past that you had been playing and winning."
"With this victory, Massawe has contributed a total of 188,297,109/- as tax, which is 15% of the deductions in his winning amount of 1,255,316,060/- and thus he will be left with 1,067,018,951/- as his profit."
"I hope you will strive to be good at these games and for your nation as is the case lately."
Tanzania Gaming Board (GBT) Chief Executive Officer, James Mbalwe, congratulated Massawe for his victory and urged him to continue to be diligent as the money he won was so much that it could make him go astray.
Mbalwe revealed: "I take this opportunity to congratulate you as my predecessors did and I would also like to urge Tanzanians to trust the gaming board."
The official noted: "Let me tell you we are always with you as we have been with Sportpesa and other companies as well as the participants. We have witnessed all professional approaches deployed in confirming the victory, this is done in keeping the participants confident that your money, as well as your prizes, are safe."
The official cautioned Massawe: "You are still young and this money is huge, we would like to see you become a good example to others by doing what is good for you and your family."
Massawe expressed his regards to Sportpesa stating for the first time it has been a dream come true in a short time as he started playing without despair in 2017.
The winner stated: " I know many of you may not believe it but I used to play almost every weekend from twice to five times believing I will succeed, God is good… I am today in front of you and I have been identified as the winner of Sportpesa's biggest Jackpot of 1,255,316,060/-."
"This money is going to change my life completely and I ask God to guide me so that I can earn more."
Massawe noted: "I urge my fellow Tanzanians not to give up and play with Sportpesa. I know others did not play the weekends that I won and so you will be blaming yourself. You never know when it's your turn."
"I would like to express my sincere gratitude to Sportpesa for the opportunity to win and become a billionaire through the Jackpot."