Sa Youth mobi-site login (Sa Youth Login) Extended time for application up to October 10, 2021
Zero-rated sa youth mobi-site login, SA Youth Mobi-site Application  2021, sa youthHarambee login
A
pplications for Phase II of the
Basic Education Employment Initiative
opened on Monday, 27 September and were expected to close at midnight on 03 October 2021. We would like to notify the public that the deadline for Phase II of the BEEI, has now been extended to
midnight on Sunday, 10 October 2021.
Applications submitted online via the
zero-rated sayouth.mobi site
are for efficiency in the data collection and management, which has been centralized to enable fairness in the recruitment and application process.
The Department has also introduced an alternative avenue for applicants to submit their applications. More information and directions on the application process will be issued in due course.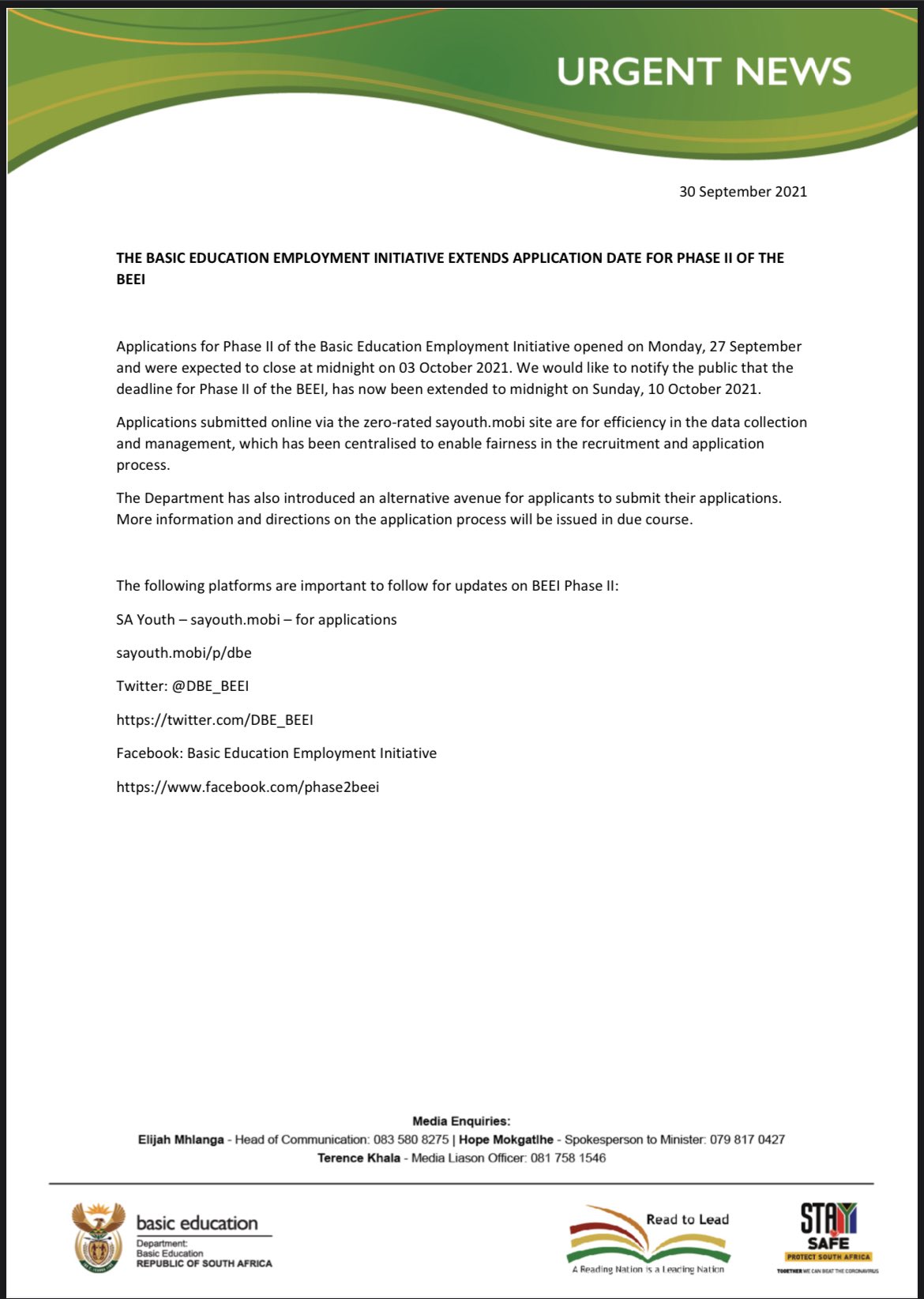 How to Register on SA Youth Mobi-site Register Online (Zero Rated Sayouth.Mobi application)
You have to visit the https://sayouth.datafree.co/p/nyda.
Then, you have to enter your ID number and password to login or register with the site first.
Then, you will be able to navigate through the SAYouth.mobi application form.
You will be able to see job opportunities near you and then click on the interested opportunity to apply.
Important Things Considered to be selected in SAYouth Mobi_Site (SA Youth login and Sa Youth mobi-site register online )
To qualify as an Education Assistant, you must have passed matric English, while an NQF Level 4, 6 and 7 qualification certificate, will be an added advantage.
However, for placement as a General School Assistant, a matric certificate is not required for
Infrastructure support and Sports and Enrichment Agents, although Trade certificates
will be an added advantage.
To work in the education environment, you must have a good ability to work with people, and within groups, have good communication skills and be a good listener and have interest in academics.
To apply for placement, young people are urged to visit Sa Youth mobi-site register online  (SA Youth network login) to create a profile and submit their application.
walk-ins will be allowed in schools due to Covid19 restrictions.
Applicants must submit their application online.
NOTE: You Should receive notice that you have been selected for shortlisting, you will be
required to prepare the following documents:
Curriculum Vitae (CV)
Testimonials (former school, local chief, church leader, etc)
Police clearance certificates
Affidavit/Declaration by applicant stating he/she has no criminal record while awaiting the Police clearance
Certified qualifications such as Matric, (where applicable: NQF Level 4 qualification certificate, for Education Assistant applicants with NQF level 6
and 7 an added advantage)
Certified copy of identity document/ passport
As in Phase I, there will be a strong emphasis on training participants, with a view to adding to their skills set, as well as setting them up for improved employment prospects.
Phase II will focus on addressing the reduction of youth unemployment, as the data collected throughout the initiative has shown that most of the young people are unemployed graduates, who lack the relevant experience to propel them to employment.
The BEEI initiative will go a long way in assisting the department to mitigate the unfortunate fallout from the COVID-19 academic disruptions we have experienced since the first 2020 national lockdown aimed at containment of the pandemic. The Initiative also aims to provide a protective net for learners at risk of dropping out of school, due to psychosocial challenges.
Through phase I of the initiative, the data collected after placement of the youth, indicated that a noticeable number of unemployed youth placed on PYEI-BEEI had qualifications in various fields. Phase II will also provide experiential learning, whilst ensuring that those who studied Education or are interested in Education as a field of study, will be directed to paths that will lead them back to the sector.